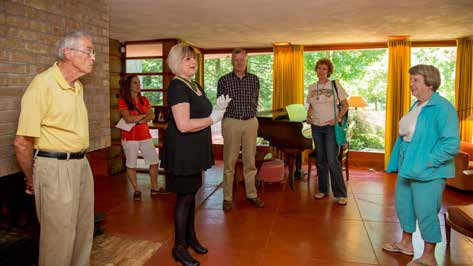 Public Tours
Docent-led tours of the Frank Lloyd Wright House Laurent House offer visitors an in-depth tour of the home along with information on its history, design, construction, restoration, and the lives of Kenneth Laurent, his wife, Phyllis, and their family. All tours begin at the Visitor Center, 4627 Spring Brook Road. The Visitor Center is wheelchair-accessible and offers parking, our museum store, and public restrooms.
Public tours are currently offered each weekend on Friday, Saturday, and Sunday from April through the end of December. Tour size is limited and reservations are strongly encouraged as we often sell out by the day of the tour. Please use the button below to book your tour or call our office at 815.877.292.
Docent-Guided Tour Times (Please allow 1.5 hours for this experience)
Friday: 11:30 a.m. and 1 p.m. (May through November)
Saturday: 11:30 a.m. and 1 p.m. (April through December)
Sunday: 1 p.m. and 2:30 p.m. (April through December)
*Note, if demand for tours is high for a particular day, we often add an additional time slot closer to the tour day to accommodate additional guests.
Public Tour Admission Fees
$25 adults
$18 senior groups of 10 or more
$5 students (ages 7-18)
Methods of Payment
We accept Visa, Mastercard, Discover and American Express.
Accessibility
If you require a wheelchair or need physical assistance for your tour, please let our office know in advance of your visit. We encourage those with physical disabilities to visit this unique home that Frank Lloyd Wright designed to provide freedom for Ken Laurent who relied on a wheelchair for his mobility. We have a standard 24" wheelchair available for public use at the house by reservation. A 27" wide wheelchair, walker, or other mobility equipment is permissible inside the house. Due to their large size, however, we cannot accommodate motorized chairs or scooters. We work diligently to accommodate our guests with mobility needs. If you have a special need, please call our office at 815.877.2952.
Private Tours
Group and private tours are also available. To make a reservation for a group tour, bus tour, school field trip or an exclusive private tour experience, please call our office at 815.877.2952 or e-mail [email protected] for more information and pricing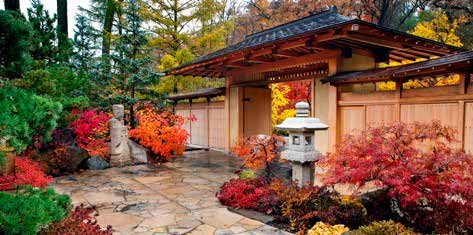 Joint Tours with Anderson Gardens
Frank Lloyd Wright & 16th Century Japan
The Laurent House is proud to team with Anderson Japanese Gardens for a joint tour experience. These tours are offered each Wednesday and Friday from May through October by advanced reservation, preferably by two weeks. This is a nearly 4-hour tour experience that begins at Anderson Japanese Gardens (located 5 minutes from the Laurent House). Guests experience a docent-led tour of the gardens and an in-depth tour of Anderson Gardens' 16th Century Sukiya-style Guest House, not normally open to the public. The tour concludes with guests driving to the Laurent House for a 60 to 90 minute tour with discussion of the influence of Japan on Frank Lloyd Wright and his design of the Laurent House.
About Anderson Japanese Gardens
Anderson Japanese Gardens is one of the most significant Japanese-style gardens in the United States. It was designed by Hoichi Kurisu who studied landscape design and construction under Kenzo Ogata in Tokyo. Construction began in 1978 when Rockford businessman John Anderson was inspired by a visit to the Kurisu-designed Japanese garden in Portland, Oregon. Over the next 20 years working with Kurisu and Kurisu-led craftsman, Anderson's swampy backyard was transformed into the spirit lifting, well-being promoting gardens of today. Only three essential elements, stone, water, and plants provide structure, represent life-giving force and provide color and choreographed views throughout the seasons. Secondary pagodas, lanterns, water basins, arbors, bridges and the guest house are designed and positioned to inspire calm, renewal, discovery and an invigorated soul.
Cost: $60 per person
Note: This tour begins at Anderson Japanese Gardens, 318 Spring Creek Road, Rockford, and ends at the Laurent House.
Reservations: Reservations for these tours are made through the Anderson Japanese Gardens' website at the following link (go to the bottom of their webpage): https://andersongardens.org/public-and-private-guided-tours/
If you require additional information, or have any questions regarding the tour, please contact [email protected]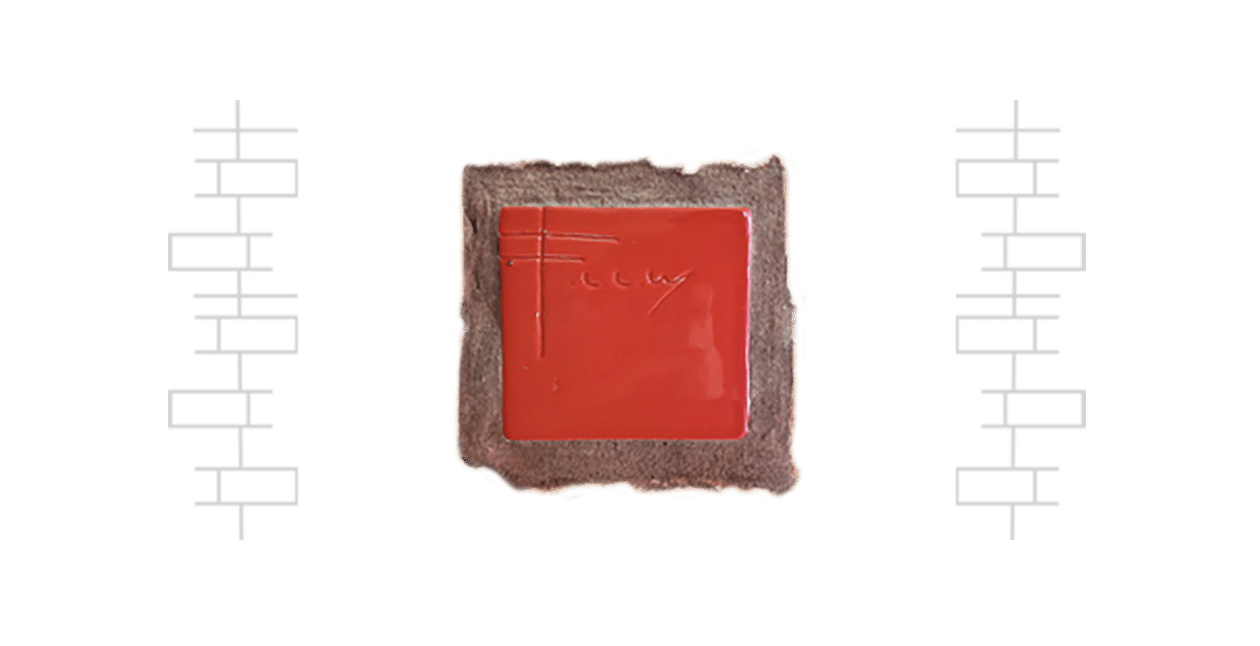 Museum Store Hours
Friday: 11 a.m. – 2:30 p.m.
Saturday: 11 a.m. – 2:30 p.m.
Sunday: 12:30 p.m. – 4:00 p.m.
Our museum store is also open by appointment by calling our office at 815.877.2952.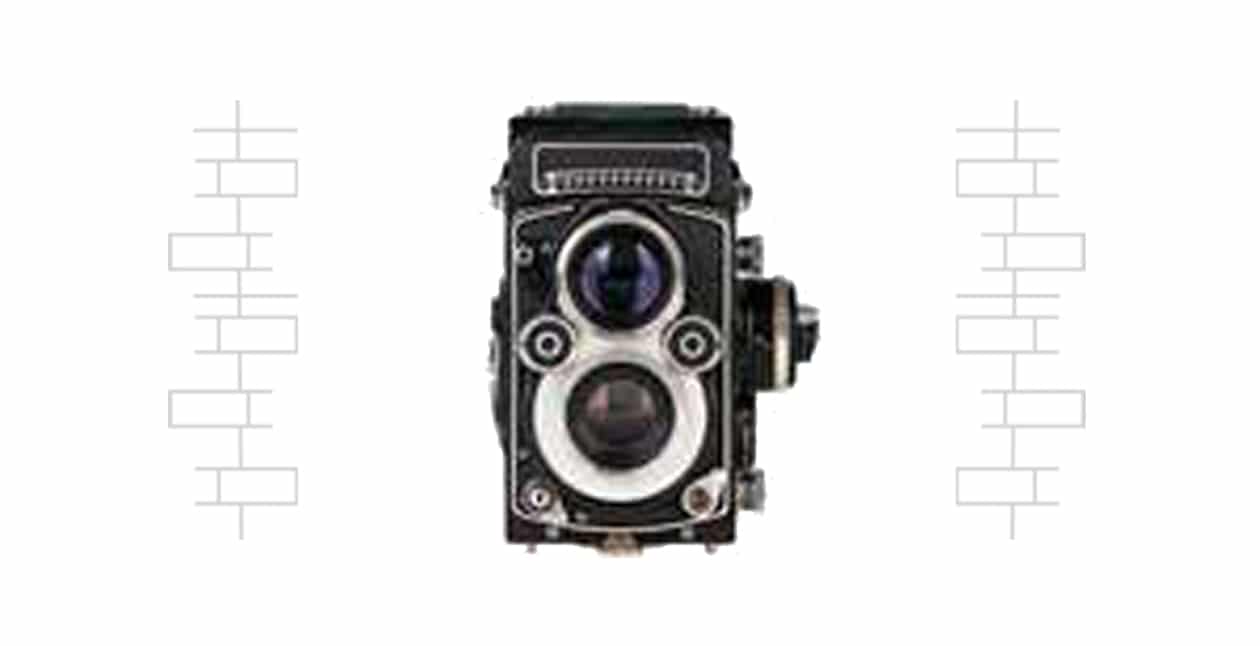 Photography Guidelines
The Laurent House is pleased to permit interior and exterior photography on our tours. All photography is for personal use only. We ask that requests for commercial photography be directed to [email protected].