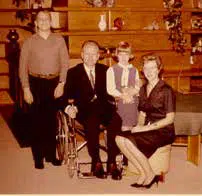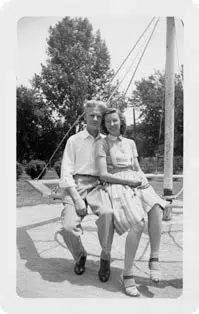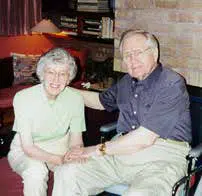 Ken Laurent met Phyllis Carmen at Trinity Lutheran Church in Rockford, Illinois. They were married in 1941, at the ages of 22 (Ken) and 23 (Phyllis). In 1942, after the outbreak of World War II, Ken was drafted into the United States Navy, and was stationed in San Francisco, California.
In 1946, Ken and Phyllis returned to Rockford, where Ken went back to work as a statistician for National Lock Company, his lifelong employer. In May of 1946, Ken was diagnosed with a large spinal cord tumor, and immediately underwent surgery. The result of the tumor and subsequent surgery left him paralyzed from the waist down for the remainder of his life at just 27 years old, classifying him as a disabled veteran.
Ken would spend the next several years recovering at the Edward Hines Jr. Veterans Administration Hospital in Hines, Illinois. It was during those years that the Laurents learned of Frank Lloyd Wright through an August 1948 issue of House Beautiful magazine, which featured Loren Pope's article entitled "The Love Affair of a Man and His House". The article focused on Pope's own Usonian home, and prompted the Laurents to learn more about Frank Lloyd Wright, which resulted in Ken writing a two-page letter to the famous architect in September of 1948.
"To give you an idea of my situation, I must first tell you that I am a paraplegic. In other words, due to a spinal cord injury, I am paralyzed from the waist down and by virtue of my condition I am confined to a wheelchair. This explains my need for a home as practical and sensible as your style of architecture denotes."
Two weeks after contacting Wright, the Laurents received a two-line reply: "We are interested but don't guarantee costs. Who knows what they are today." Thus began a lifelong friendship between the famed architect and the disabled veteran.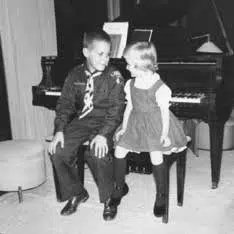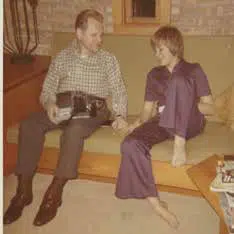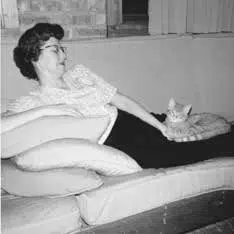 The Kenneth and Phyllis Laurent House was completed in 1952, and stands proud in Wright's large portfolio of work as one of only 11 hemicycle Usonians, and the only design to be wheelchair-accessible, 40 years before the Americans with Disabilities Act. The house remains a shining example of design invigorating the soul and giving life to its occupants. Ken, who faced daily barriers in the outside world, made the following comment about his Wright-designed home:
"This house has helped me to focus on my capabilities, not my disability. That is the true gift that Mr. Wright gave to me."
The Laurents would live in – and meticulously care for – the home for nearly 60 years, raising two children, and enjoying many happy years together. Ken passed away on January 24, 2012, at the age of 92. His true love followed just months later on November 26, 2012, at the age of 94.